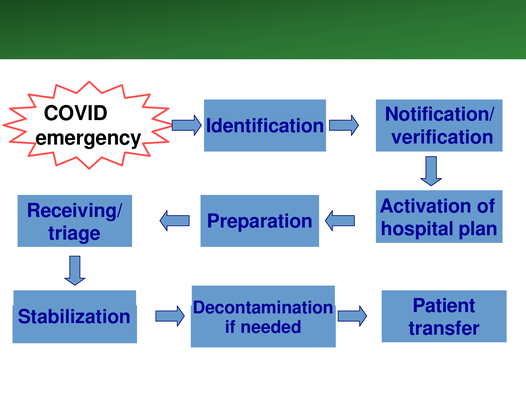 Dear colleagues,
It is a pleasure to announce that a new scientific paper has been published on the Special Issue "Emerging Biological Threats and Public Health Preparedness" of the International Journal of Environmental Research and Public Health. This special issue has, as guest editors, two Directive Board Members of the #MasterCBRN: Dr. Mariachiara Carestia and Dr. Stefania Moramarco.
Malizia A, Filograna L, Sbordone FP, Ciccarese G, Carbone A, Carreri B, Ryan CP, Ludovici GM, Chierici A and Manenti G. (2021). "Response of a Radiology Department to the SARS-CoV-2 Pandemic: The Experience of the Hospital "Policlinico Tor Vergata" in Rome". International Journal of Environmental Research and Public Health. 2021; 18(10):5255. https://doi.org/10.3390/ijerph18105255
link: https://www.mdpi.com/1660-4601/18/10/5255
Abstract:
The dissemination of severe acute respiratory syndrome linked to the novel coronavirus, SARS-CoV-2, prompted all health services to provide adequate measures to limit new cases that could affect healthcare professionals. Due to the large number of suspected patients subjected to CT scans and the proximity of radiologists to the patient during exams, radiologists as well as the entire staff of the radiology department are particularly exposed to SARS-CoV-2. This article includes the emergency management procedures, the use of personal protective devices, and the rearrangement of exam rooms and of human resources in the department of radiology at "Policlinico Tor Vergata" in Rome performed during the SARS-CoV-2 pandemic. We introduce the management measures that our department has taken to cope with the influx of patients while still ensuring the proper management of other emergencies and time-sensitive exams.