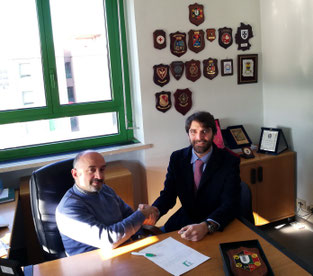 On the one part, Daniele Di Giovanni, President, on behalf of the HESAR association, and Dr. Pasqualino Gaudio, "International Master Courses in Protection against CBRNe Events" coordinator at the University of Rome Tor Vergata, on behalf of this institution, in recognition of their shared interest in establishing and developing a cooperative relationship between the university and the association, and within their respective powers, have agreed to enter into cooperation agreement on the 16th December 2016.
The aim of this agreement is to develop joint programmes of study, exchange and cooperation in the areas of teaching, research and student training. The agreement will be developed within the framework of cultural and scientific cooperation established between the two entities and both parties undertake to promote the possibility of extending this agreement to other institutions.

Cooperation may include the exchange of information and publications, the exchange of staff to complement the activities offered by each entity, seminars, colloquia and symposia, joint research projects, joint courses, access to specific equipment and materials, and short stay visits.