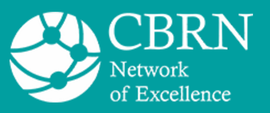 The SICC 2017 Conference initiative is officialy recognised and it is reported in the CBRN Network of Excellence. CBRN Network of Excellence is an initiative of the Netherlands Organisation for Applied Scientific Research TNO, the National Institute for Public Health and the Environment RIVM and the Netherlands Forensic Institute NFI.
The aim of the CBRN Network of Excellence is to set up an –international– CBRN Network of Excellence and to stimulate research and innovation by mobilizing knowledge, expertise and experience in the area of CBRN and by bringing together both (government) organizations, knowledge institutes and commercial companies.
The CBRN Network of Excellence wants to enhance the CBRN knowledge infrastructure by exchanging information on existing CBRN incident experience, research and innovation initiatives, knowledge and expertise and by collaborating in research and innovation projects.
Moreover, the CBRN Network of Excellence website provides a restricted area for exchange of information and document sharing within (selected) groups.
More information at:
CBRN Network of Excellence Website https://cbrn-networkofexcellence.org/
SICC 2017 page https://cbrn-networkofexcellence.org/filter-results-5/event/151-1st-scientific-international-conference-on-cbrne