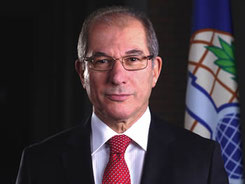 EVENT PROGRAM
Date and Time: Tuesday, 23rd May 2017, 9:30 - 12:00
Venue: (same as the SICC 2017 Conference) National Fire Academy, Via del Commercio 13, 00154 Rome, Italy
Welcome Coffee
Opening
Keynote Speech by the Ambassador Ahmet Üzümcü, Director-General of the OPCW.
Welcome Address by the Italian Ministry of Foreign Affairs and International Cooperation and the University of Rome Tor Vergata.
Panel Discussion
A round-table of internationally-known experts from diplomacy, acandemy and industry will discuss latest developments, achievements and challenges. Brief session of questions and answers will follow.
Every participant that is registered to SICC 2017 Conference will also have access to the "OPCW 20th Anniversary Side Event".
The Chemical Weapons Convention (CWC) comprehensively prohibits the use, development, production, stockpiling and transfer of chemical weapons. Any chemical used for warfare is considered a chemical weapon by the Convention. The Organisation for the Prohibition of Chemical Weapons (OPCW) is the implementing body of the CWC and oversees the global endeavour to permanently eliminate chemical weapons.
The Convention entered into force in 1997. With 192 countries obligating themselves to the CWC, it is the most successful disarmament treaty in existence, eliminating an entire class of weapons of mass destruction. To date, over 93 per cent of all chemical weapon stockpiles declared by possessor states have been destroyed under OPCW verification. For its extensive efforts in eliminating chemical weapons, the OPCW received the 2013 Nobel Prize for Peace.