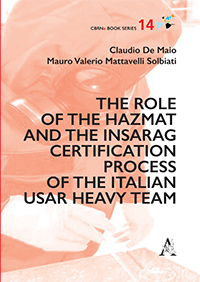 Dear colleagues,

We are proud to announce that the 14 book of the CBRNe book series has been published by the Gioacchino Onorati Editore (Aracne editrice).
Title: 
THE ROLE OF THE HAZMAT AND THE INSARAG CERTIFICATION PROCESS OF THE ITALIAN USAR HEAVY TEAM
Authors: Claudio De Maio and Mauro Valerio Mattavelli Solbiati

Abstract:
The book focuses on the INSARAG certification process that Italy has decided to undertake in order to include its USAR Heavy team in the international relief system. Special attention is given to figure of the HazMat, namely the person in the USAR team who is responsible for the management of hazardous materials.
Link: http://www.aracneeditrice.it/index.php/pubblicazione.html?item=9788825530643