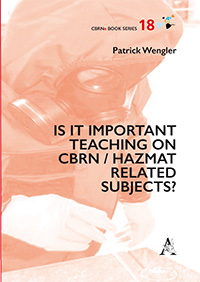 Dear colleagues,
The book n.18 of the CBRNe book serie, Gioacchino Onorati Editore (Aracne editrice) has been published:
IS IT IMPORTANT TEACHING LAW ENFORCEMENT ON CBRN / HAZMAT RELATED SUBJECTS?
Author: Patrick Wengler
ISBN: 978-88-255-3403-0
Abstract:
The First Book in Europe to set on record the recent and past issues related to hazardous materials (HAZMAT), or chemical, biological, radiological and nuclear agents (CBRN) from a police perspective. Such incidents show the importance on teaching as well as having response procedures in policing. The importance of basic knowledge will be explained as well how this might have an impact on police officers as helping them to better assess the scene, which implies faster response and remaining safe and remain protected being able to fulfil his/her duties, saving lives. On the other side police officers are the ones charged investigating crimes and crimes with CBRN materials are part of it. Signs and symptoms might give clues and therefore, the police officer now, more than ever should have a basic knowledge as the events of the last 5 years have shown. This Book will give the reader a good understanding on HAZMAT & CBRN agents involved in policing, covering its history and development as well as police responsibilities. Some examples from the last years as covering some historical facts will be used to show the importance of police involvement in the related subject covering as well airports and dangerous goods (DGR & ADR).
Link: http://www.aracneeditrice.it/index.php/pubblicazione.html?item=9788825534030