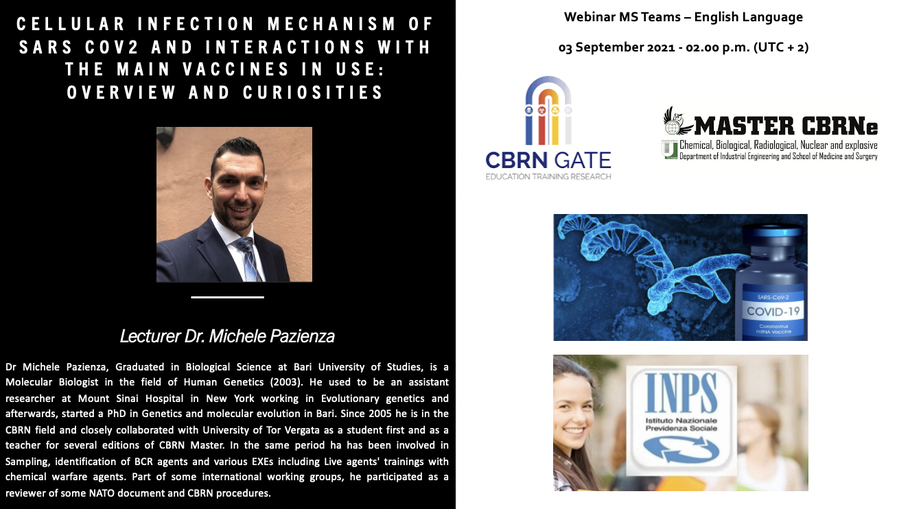 Dear colleagues,
It is a pleasure to announce the Webinar:
"Cellular infection mechanism of SARS Cov2 and interactions with the main vaccines in use: Overview and curiosities."
will be held, in English Language, next 03 September 2021 (02.00 p.m.) on MS Teams thanks to the support of the INPS scholarships program.
The lecturer of the Webinar is Dr. Michele Pazienza, MS
Biography:
Dr Michele Pazienza, Graduated in Biological Science at Bari University of Studies, is a Molecular Biologist in the field of Human Genetics (2003).
He used to be an assistant researcher at Mount Sinai Hospital in New York working in Evolutionary genetics and afterwords, started a PhD in Genetics and molecular evolution in Bari.
Since 2005 he is in the CBRN field and closely collaborated with University of Tor Vergata as a student first and as a teacher for several editions of CBRN Master.
In the same period ha has been involved in Sampling, identification of BCR agents and various EXEs including Live agents trainings with chemical warfare agents.
Part of some international working groups, he participated as a reviewer of some NATO document and CBRN procedures.
Here are some of his scientific publications:
"Location of ß-defensins genes in non human primates" European journal of histochemistry 2004; vol 48 iussue 2 (apr-jun):195-200. Impact factor 1.041 
"CBRN mobile laboratories in Italy" SPIE Vol.7304 7340W-1. Impact factor 0.2.
"Hominoid fission of chromosome 14/15 and the role of segmental duplications" Genome research; September 27, 2013. Impact factor 13.852;
"Application of RT-PCR to identify residual bio decontamination of confined environment after hydrogen peroxide vapor treatment: preliminary results"  journal of microbiological and biochemical technology; December 2013. Impact factor 2.16;
"Independent centromere formation in a capricious, gene-free domain of chromosome 13q21in old world monkeys and pigs" Genome Biology 2006, 7:R91 oct. 2006. Impact factor 7.33;
"Use of particle counter system for the optimization of sampling, identification and decontamination procedures for biological aerosols dispersion in confined environment" journal of microbiological and biochemical technology; January 2014. Impact factor 2.16;
This webinar is devoted to the candidates of the CBRNe Master Courses in Protection Against CBRNe Events.

STAY TUNED!