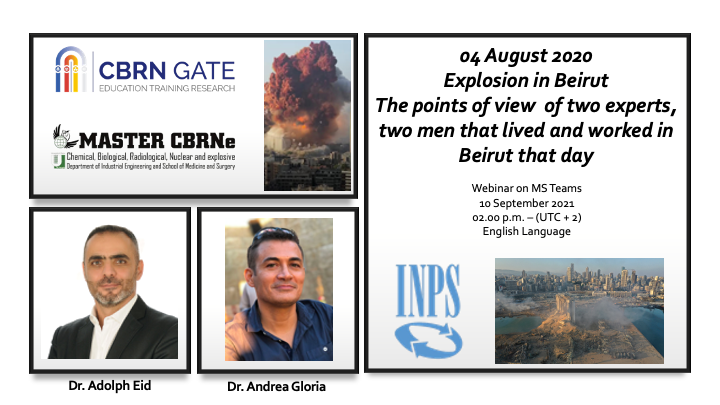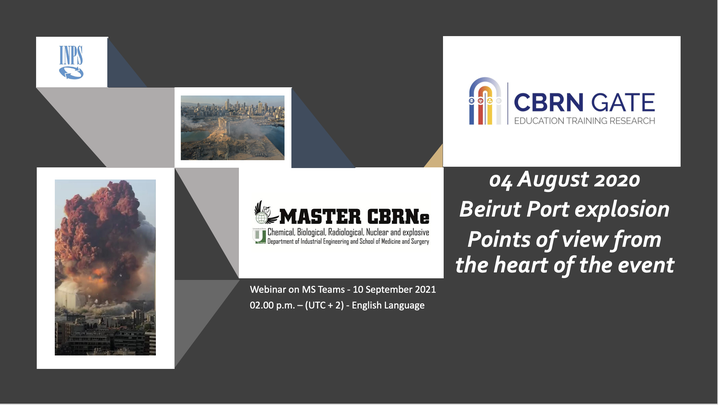 Dear colleagues,
We are glad to announce the webinar:

"04 August 2020 - Beirut Port explosion - Points of view from the heart of the event"
that will be held next 10 September 2021 at 02.00 p.m. – (UTC + 2) in English Language.
The lecturers are Dr. Andrea Gloria and Dr. Adolph Eid,  CBRNe experts who was in Beirut that day and will discuss about:
Case studies and lessons learned of incidents and accidents with similar consequences involving Ammonium Nitrate in history 
Beirut explosion: background and on-site situation
The point of view of the experts analyzing the incident and its consequences 
The active operations: the international response and support (the activation of the European Civil Protection mechanism), the removal of ruins, re-packaging of TIM and waste management.
The name of the lecturers and the final agenda will be published next 03 of September 2021.

STAY TUNED!
The webinar is devoted to the students of the #MasterCBRN