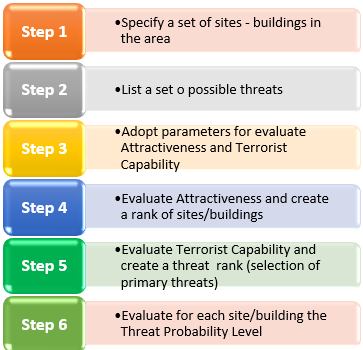 Dear colleagues,
It is a pleasure to announce that a new scientific paper has been published on the CBRN special, that is one of the 3 the special issue of SICC Series - CBRNe Conference 2020 published on the International Journal of Safety and Security Engineering (Guest editors of the special issue: Dr. Andrea Malizia, Dr. Marco D'Arienzo and Dr. Parag Chatterjee).
Carbonelli, M., Carestia, M., Quaranta, R. (2021). Threat assessment method for buildings in case of terrorist attacks. International Journal of Safety and Security Engineering, Vol. 11, No. 4, pp. 285-294. https://doi.org/10.18280/ijsse.110401
link: https://www.iieta.org/journals/ijsse/paper/10.18280/ijsse.110401
Abstract:
The objective of this paper is to outline the essential features of an original Threat Assessment Method for sites and buildings for the case of terrorist attacks with Explosive/CBR agents. The proposed method, based on an approach in six Steps, provides a structured guide useful to the Assessment Team in charge to evaluate the terrorist risks in a site/building. The method introduces two indexes, the general Attractiveness of a target and the Terrorist Capability. Using these indexes, it is possible to evaluate for a wide area a first rank for the sites/buildings that shows a potentially higher Attractiveness for the terrorists and, in a similar way, the Terrorist Capability index that provides a criterion for determining the easily applicable threats in a wide list of proposed Explosive/CBR weapons. Finally, the proposed method is applied to three practical Case Studies and obtained results are discussed.