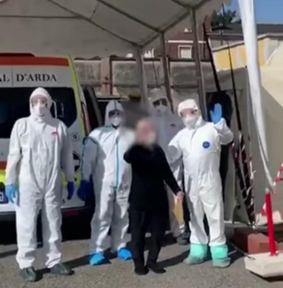 Dear colleagues,
It is a pleasure to announce that a new scientific paper has been published on the CBRN special, that is one of the 3 the special issue of SICC Series - CBRNe Conference 2020 published on the International Journal of Safety and Security Engineering (Guest editors of the special issue: Dr. Andrea Malizia, Dr. Marco D'Arienzo and Dr. Parag Chatterjee).
Ciccotti, M., Pagliaro, P., Peluso, I., Benfenati, F., Munzi, D., Sciarra, T., Palermo, G., Sorbo, M.C. (2021). Prevention procedures to contain COVID-19 contagion in the first Italian army field hospital. International Journal of Safety and Security Engineering, Vol. 11, No. 4, pp. 329-335. https://doi.org/10.18280/ijsse.110405
link: https://www.iieta.org/journals/ijsse/paper/10.18280/ijsse.110405
Abstract:
The COVID-19 outbreak in Italy saturated the public hospitals' intensive care units in March 2020. The Ministry of Health asked for the Military Health Unit's intervention to deal with the emergency. The first COVID-19 Army field hospital in the world was thus built in Piacenza, Italy, to address the emergency. We describe the architecture of the hospital and the preventive measures adopted to reduce COVID-19 contagion among the medical personnel. The hospital project with the "H" shape divides the "dirty path" of entry for operators and patients from the "clean path" of exit for operators. Hypochlorite-based and alcohol-based solutions were used for personal protective equipment (PPE) decontamination before reuse. Although exposed to 50 confirmed COVID-19 patients, all primary care personnel tested negative to COVID-19, before the operation, 14 days after the first patient and 30 days after the closure of the military field hospital. Due to the reported discomfort and its potential toxicity, the hypochlorite-based disinfection method was substituted with alcohol-based disinfection solution, which displayed comparable effective results. The results of the present study pave the way for the creation of a protocol for future validation in larger studies aimed at providing guidelines in emergency conditions.