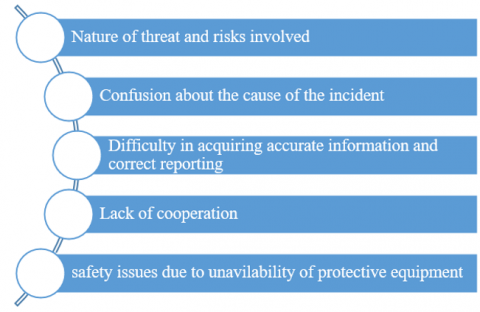 Dear colleagues,
It is a pleasure to announce that a new scientific paper has been published on the CBRN special, that is one of the 3 the special issue of SICC Series - CBRNe Conference 2020 published on the International Journal of Safety and Security Engineering (Guest editors of the special issue: Dr. Andrea Malizia, Dr. Marco D'Arienzo and Dr. Parag Chatterjee).
Choudary, S., Asghar, M.U., Ibrahim, A.G. (2021). CBRN events and crisis communication: Analysis of training needs and development of curriculum for communication personnel. International Journal of Safety and Security Engineering, Vol. 11, No. 4, pp. 337-343. https://doi.org/10.18280/ijsse.110406
link: https://www.iieta.org/journals/ijsse/paper/10.18280/ijsse.110406
Abstract:
Crisis communication is one of the key components of chemical, biological, radiological and nuclear (CBRN) events management and the successful management of a CBRN event depends on the execution of effective and timely crisis communication mechanisms, institutionalized in the response network. A CBRN event in form of an accident, incident or terrorism attack presents a unique environment and challenges for communication, which requires a specialized communication response, based on well-tailored education and training of the communication personnel. This calls for development of an objective and comprehensive approach towards crisis communication, indoctrinated and designed in a well-defined curriculum based on theoretical scholarship and operational training. Therefore, the aim of this study was to determine and address the needs for CBRN related crisis communication and to develop a CBRN training curriculum for communication personnel. This research was pursued by means of needs assessment method involving an online survey targeted towards specific set of stakeholders involved within the field of CBRN defense and crisis communication. Situational awareness, knowledge about risks, operational information, and training in terms of understanding the origin of CBRN events, chain of response network, message formulation, conducting interviews, and employment of communication techniques while reporting on specific CBRN scenarios have been identified as specific training needs. On the basis of the findings of the survey, the training curriculum has been developed and suggested, which will contribute to the sufficient communication training of communication personnel, leading to development of extensive communication competencies and skills in the field of CBRN defense, benefiting the nation-states.