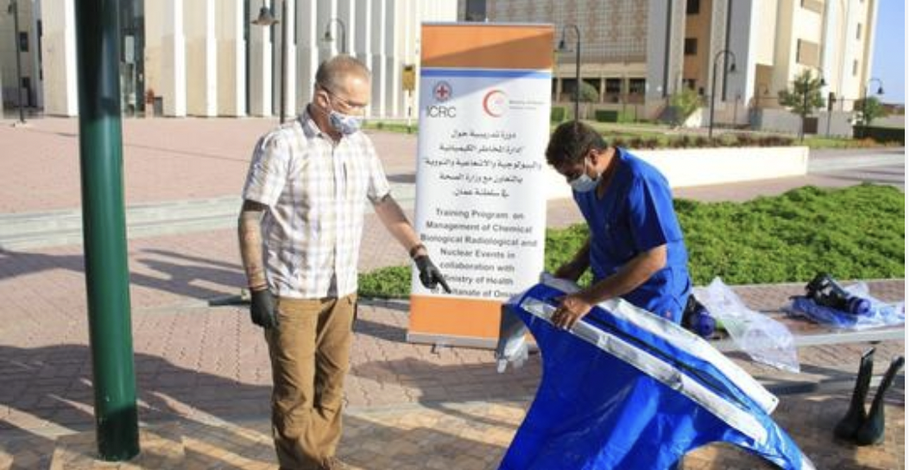 Dear colleagues,
It has been successfully concluded  the TRAINING COURSE ON CBRNe INCIDENTS IN OMAN BY THE INTERNATIONAL COMMITTEE OF THE RED CROSS WITH THE OMANI MINISTRY OF HEALTH AND BERGAMO POISON CONTROL CENTER
The last part of the training course on managing CBRNe hazards, organized by the International Committee of the Red Cross – ICRC -  together with the Omani Ministry of Health, was held  in Muscat on 24-26 January 2022. A group of Omani doctors from 5 hospitals in the Sultanate attended the course.
The 3-day course was trained by dr. Mariapina Gallo, medical toxicologist of the Bergamo Poison Control Center (BG - PCC) and member of the didactic board of International CNBRe Master of the University of Rome "Tor Vergata", together with dr Andrea Giampreti, medical toxicologist of the BG PCC, both CBRN Medical Advisor Consultants of ICRC, and dr Mauro Dalla Torre, former ICRC WeC Medical Advisor.
This training course aims at the best medical response for individuals or groups exposed to CBRN agents. The course covered the main CBRN hazards and looked at medical emergency response (decontamination, medical support, antidotes) to CBRN events.
Here is it possible to download the activity report of the  Bergamo Poison Control Center (BG - PCC). We are proud as CBRN Gate - Master CBRNe to cooperate with you!
  link: https://www.asst-pg23.it/sites/default/files/documenti-caricati/reparti-servizi/2022-02/Report%20CAV%20BG%202021.pdf