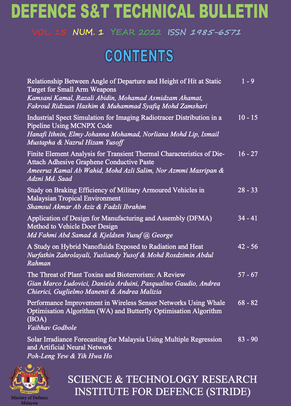 Dear colleagues,
We are glad to announce that a new scientific paper has been published:
Gian Marco Ludovici, Daniela Arduini, Pasqualino Gaudio, Andrea Chierici, Guglielmo Manenti & Andrea Malizia (2022). "The threat of plant toxins and bioterrorism: a review ". Defence and Technical Bullettin, vol.15, n.1, pp. 57-67.
Abstract:
The intentional use of highly pathogenic microorganisms, such as bacteria, viruses or their toxins, to spread mass-scale diseases that destabilize populations (with motivations of religious or ideological belief, monetary implications, or political decisions) is defined as bioterrorism. Although the success of a bioterrorism attack is not very realistic due to technical constraints, it is not unlikely and the threat of such an attack is higher than ever before. It is now a fact that the capability to create panic has allured terrorists for the use of biological agents (BAs) to cause terror attacks. In the era of biotechnology and nanotechnology, accessibility in terms of price and availability has spread fast, with new sophisticated BAs often being produced and used. Moreover, there are some BAs that are becoming increasingly important, such as toxins produced by bacteria (e.g., Botulinum toxin, BTX), or Enterotoxyn type B, also known as Staphylococcal Enterotoxin B (SEB)) and extractions from plants. The most increasing records are with regards to the extraction / production of ricin, abrin, modeccin, viscumin and volkensin, which are the most lethal plant toxins known to humans, even in low amounts. Moreover, ricin was also developed as an aerosol biological warfare agent (BWA) by the US and its allies during World War II, but was never used. Nowadays, there are increasing records that show how easy it can be to extract plant toxins and transform them into biological weapon agents (BWAs), regardless of the scale of the group of individuals. 
Ludovici_2022_DeT
Ludovici_2022.pdf
Adobe Acrobat Document
436.6 KB