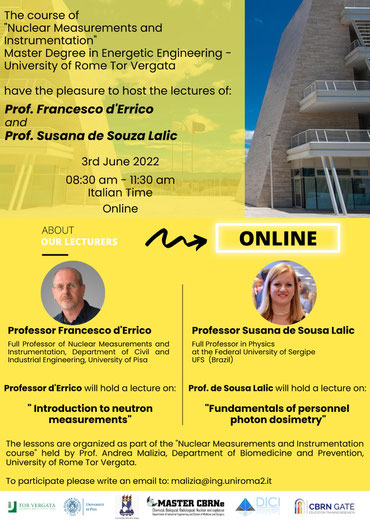 Dear colleagues,

We are glad to announce that tomorrow 03 June 2022 (08.30 a.m. - 11.30 a.m CET, Italian Time) Prof. Andrea Malizia has organised a webinar for the students of the Master Degree of Energetic Engineering - University of Rome Tor Vergata in the aim of his course in "Nuclear Measurements and Instrumentations". 
The webinar has two lectures (in English language):
Introduction to neutron measurements
Lecturer: Prof. Francesco d'Errico - Full Professor of Physics at the Department of Civil and Industrial Engineering, University of Rome Tor Vergata.
Fundamentals of personnel photon dosimetry
Lecturer: Prof. Susana de Sousa Lalic - Full Professor in Physics at the Federal University of Sergipe (UFS-Brazil)
The webinar is open, if you want to participate just send an email to: malizia@ing.uniroma2.it and you will receive the link for the connection.
STAY TUNED!