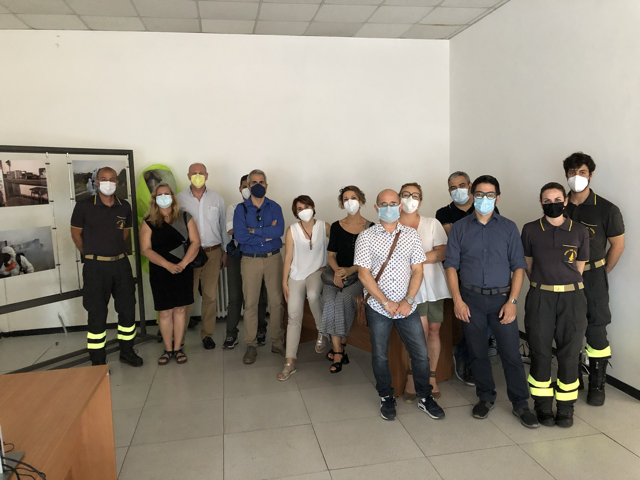 Dear colleagues,
It is a pleasure to report the news of the visit that has been done by a group of students from the class of "Nuclear Measures and Instrumentations" of the Master Degree in Energetic Engineering and from the International Master Courses in Protection Against CBRNe Events of the University of Rome Tor Vergata accompanied by Prof. Andrea Malizia.
The visit has been done on the 08 of June 2022 at the "Atomic Laboratories - Central Directorate for the Education" of the Italian Firefighters Department that is located in Rome.
This activity has been possible thanks to the initiative of Ing. Clara Modesto, Head of the "Office for the fight against NBCR risk and for specialized services" (Capo dell' Ufficio per il contrasto al rischio NBCR e per i servizi specializzati) that we want to thank officially to let our students live a unique and amazing experience.
We want also to thank Ing. Gaetano Vallefuoco, Head of the "Central Directorate for the Education" (Capo della Direzione Centrale per la Formazione" for opening his facility to us and for the continuous support and cooperation.
The visit to the Atomic Laboratories has been supervised by Ing. Romeo Gallo (that is the Italian P.I. in RN of the Firefighters) together with Ing. Roberto Melmenuzzi, Ing. Roberto Perna and the support of Ing. Andrea Moscone and Ing. Maria Paluccio.
The participants have the opportunity to learn from the best how the RN monitoring system works from the National control to the measure of the personal dose values. The participants have visited all the laboratories and tested with Ing. Gallo the functionality of many instruments for RN detection. The new system for the RN monitoring has been presented as well together with all the new tools developed (such as the e-Learning platform and the tool to do Table Top Exercises).
The day has concluded with the new Firefighters museum, an amazing journey in the history of the Firefighters.
We are thankful not only for the visit but for the official cooperation among our entities and the amazing work that you do 24/7.
We are proud to work with you. 
STAY TUNED!