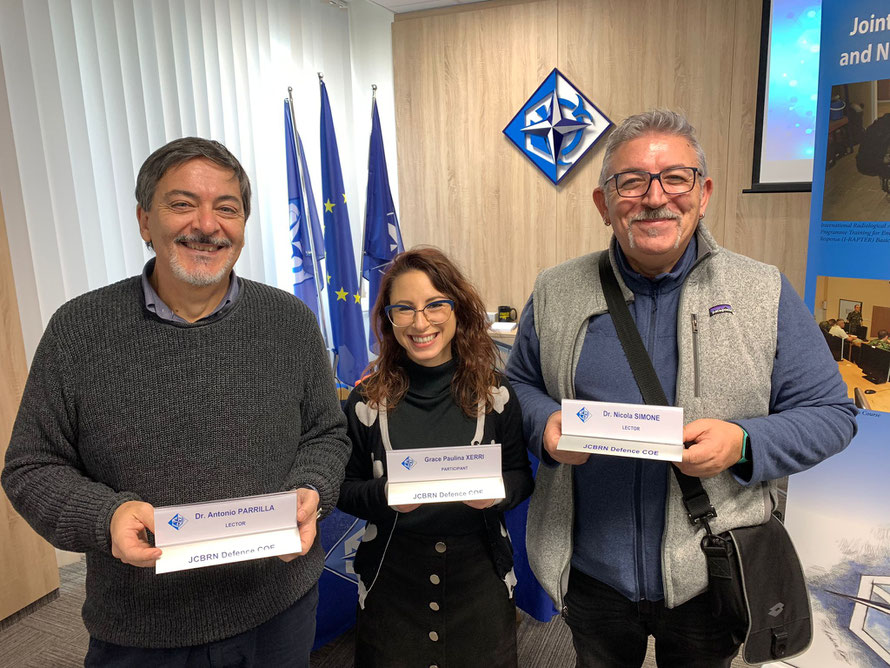 Dear colleagues,
From November 21st to 25th, the Joint Chemical, Biological, Radiological and Nuclear Defence Centre of Excellence (JCBRND CoE) hosted its annual NATO CBRN Consequence Management Course. This course was opened for the second time to both military and civilian emergency response operators and was attended by participants from approximately 20 countries. The course focused specifically on increasing communication and collaboration between military and civilian operations and understanding the current challenges in the management of CBRN crises globally from a NATO perspective. Each day the participants concentrated on one aspect of C, B, and R, and the course activities involved a mix of presentations and tabletop exercises. We are pleased to report that various modules were led by our Master CBRNe community.
Our expert Master CBRNe instructors, Dr. Antonio Parrilla and Dr. Nicola Simone, led the module on communication in emergencies and interacting with the media and public during a crisis.
Furthermore, the module on Consequence Management in Radiological Emergencies was taught by our former Master CBRNe student, Dr. Rachele Brancaleoni.
Our colleague, Grace Xerri, attended the course as a participant and was invited to present on the events, activities, and Master CBRNe courses offered at the University of Rome Tor Vergata. We thank the JCBRND CoE for this wonderful opportunity to collaborate and offer our congratulations to our Master CBRNe community for their excellent work this past week!
STAY TUNED!
link: https://www.jcbrncoe.org/index.php/news-newsletter/672-civilian-and-military-consequence-managers-trained-together-in-cbrn-consequence-management