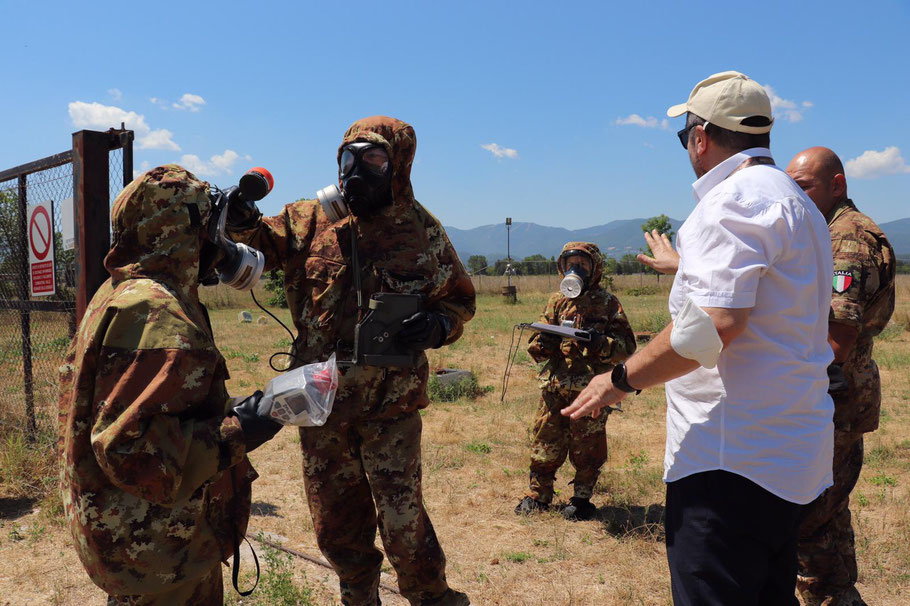 Dear colleagues,
It is a pleasure to announce that a delegation of the First and Second Level MasterCBRNe has successfully completed a 2 days of visit and training with one of the main partner of the Italian Ministry of Defence that is the NBC School located in Rieti (Italy).
Here you can find the two days program:
DAY 1:
Welcome of the Delegation and Briefing on NBC School Lecture Hall
Briefing on NBC School Courses Lecture Hall
Didactic activity – Radiological laboratory and sensors Radiological Laboratory
Didactic activity – Biological Laboratory and sensors Biological Laboratory
Visit to the CBRN Museum CBRN Museum
DAY 2:
Arrival to the School and departure to the Training Area Rieti - Verdirosi Barrack - Training Area
Welcome and Briefing on Training Activities Training Area
Distribution and donning PPE Training Area
PPE Confidence Chamber NuBiCh Scenario
LLR Detection Procedures NuBiCh Scenario
Operational Decontamination Procedures NuBiCh Scenario
The students had the chance not only to see some of the most important instruments and procedure used in the labs and during the operation for detection, identification, protection and decontamination phases but also to test the PPE and the difficulties to operate with such an uncomfortable suits, mask and gloves in a hot summer with all the COVID procedures in progress.
Practical activities are of paramount importance to understand how to act but also how to manage teams during CBRNe events.
We want to deeply thank the NBC School of Rieti for these two great days and for all the support to our activities.

We want to thank Gen. B. Riccardo Fambrini, Commander of the NBC School, that has authorized those activities.
We want to thank Maj. Giampaolo Santini, our cooperation agreement P.O.C, for the  organization of this training.
We want to thank Maj. Paolo Vannucchi that has been the Principal Instructor and our reference officer. Thank you PAOLO!
We want to thank Cmd. Di Credico, Cpt. Magnani, Cpt. Baldassi, Dr. Mazzella and all the instructors involved. You are amazing guys, we are proud to cooperate with you all!
STAY TUNED!